RETURN PORTAL
Hooray for a digital returns process
Moving from a paper-based returns process to a digital process requires a change but brings a wealth of opportunities for you and your customer. Hide the complexity of the returns process behind a friendly return portal that gives customers peace of mind and puts you in control of returns.
Various channels and return policies, one return solution
Sales channels
Use the return portal and easily integrate it with your e-commerce system. Do you want to build your own return widget to control design and user experience? Just build it on top of our API. Do you need a returns solution for your marketplaces? We've got you covered too.
Return policies
There can be multiple return events when customers buy and use your products. 12return helps you turn these events into valuable interactions with your customer and a positive return experience for your customer.
A digital return experience
An easy returns process with a local shipping experience that gives peace of mind to your customer.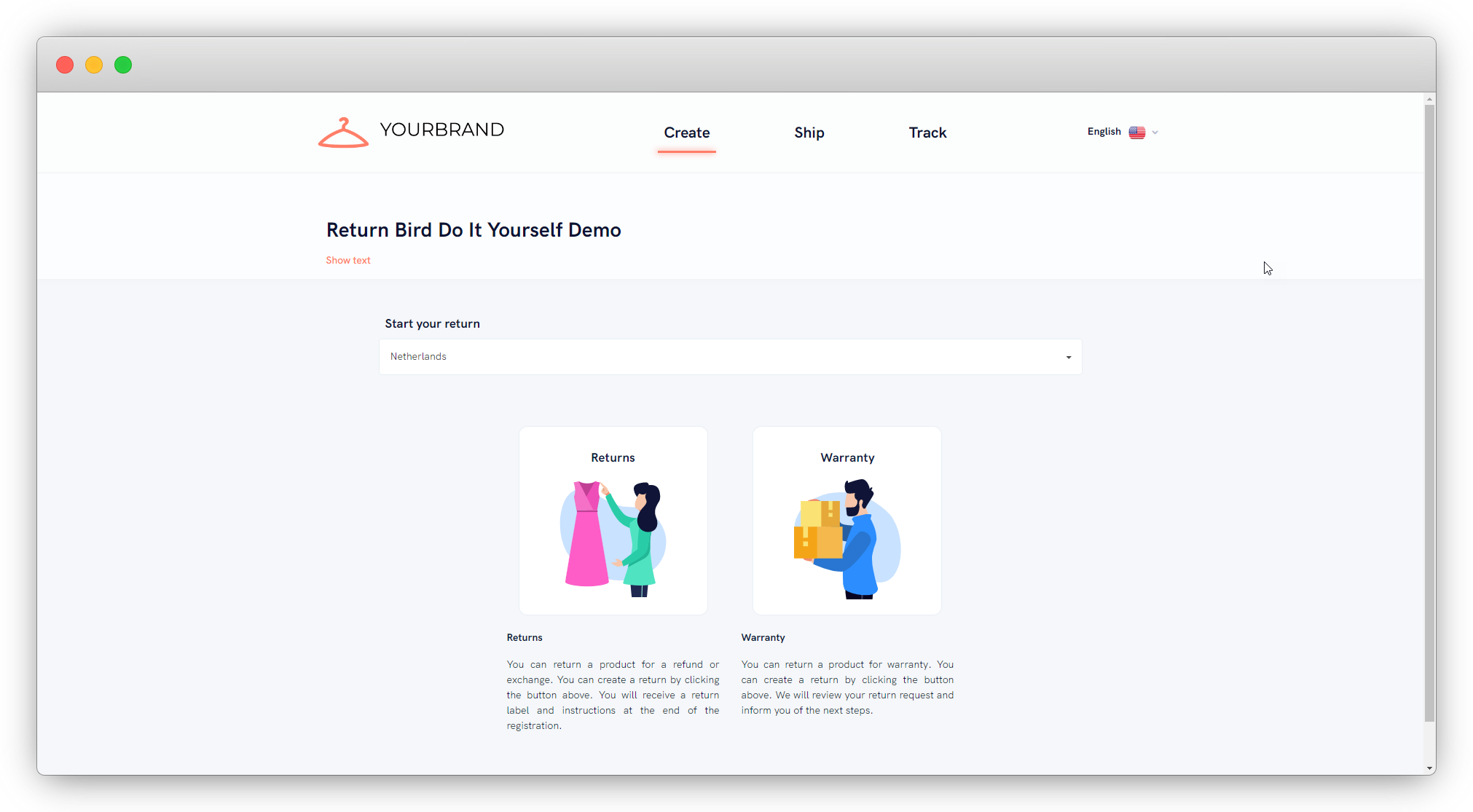 RETURN PORTAL
Self-service returns for your customer
Branded return portal, responsive for desktop, tablet, and mobile, and integrated with any e-commerce system.
HEADLESS E-COMMERCE
Embed returns in your store-front
Do you want to be in full control of the user interface? Build your own return form on our API.
CALL CENTER
Returns tool for your call center
Customer service agents can easily create returns for their customers.
Connect different channels (webshop, marketplaces, B2B portals) to a single returns process.
Define one return policy for all returns or specific returns policies for returns, warranty, and end-of-life.
Define return reasons for each return policy without limitations.
Promote store credits or exchanges instead of refunds to retain sales.
Define additional data fields to record all data that is relevant for the connected returns process.
Embed your favorite communication solution for real-time interaction in the return portal.
Integrate Zendesk, Teams, Slack, or any other tool to get alerted when a new return has been requested.
Guide the customer to prepare the shipment to avoid issues with cross-border shipping.
Turn returns into a competitive advantage
With 12return, you can connect the frontend and backend returns processes into a digital and physical returns process that is up to the challenges of returns.